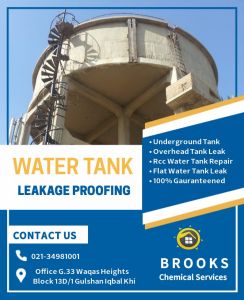 Water Tank Waterproofing Services
Water tank leakage solutions & seepage control services in all karachi for life time warranty with imported chemical. Is your water tank is leaking? Its mean that water makes your structure weak. And if not treated, then sewerage line water mixes with your water tank. If you are still having water tank leakage and seepage issues even after using so many formulas. And this same issue happens with over head tank, it was having leakage and seepage and you did plaster to maintain it. But still the cracks appear and because of this leakage and seepage happens again and again. Because of this bottom wall and roof gets seepage!.
We have its 100% solution of Brooks Chemical Services bcs 91 chemical. It can solve your issue and it can waterproof your tank. This material does not allows water to get leak. With bcs plug, it stops your water tank leakage. Water leakage material application is done with brush roller spray machine. With this application you get life time solution and it has no have side effect. You can apply this solution on iron, rcc, cement sheet.
Over time, the pressure on the tank can damage the water heater most. Most water heaters have a life span of 10 to 13 years, and if it comes out of the bottom of the tank in the burner chamber, this may be due to age. Finally, the bottom of the tank rusts and begins to leak. If there is a leak in the pipe connection to the water tank, the tank should be emptied completely and checked. Problems can be caused by aging, knocking or overheating of the storage tank, and the tank began to expand, which leads to the wrong shape of the tank.
For water tank leakage repair, clean the water tank completely, fill the cracks with flexible chemical. And after filling all cracks, apply a coating of plastic foam chemical. And in last coat the tank with elestromeric chemical completely. You can also repair the water tank by completely replace it with a qualified installer.
Note:
Dont use your tank for 30 to 24 hours and if tank is in basement than don't use it for  40 to 48 hours.